//vol. 15-1 Professionals』 Speak
The Hong Kong Federation of Youth Groups (HKFYG) has been providing opportunities and facilities for young people since its establishment in 1960. Youth Hong Kong interviews the Federation's Deputy Executive Director, Ms. Hsu Siu-man to find out how it has kept up to current times.
Keeping up with young people's interests, concerns and passion is how the Federation remains relevant and develops resilience in them. The purpose of offering a wide range of services from counselling to leadership development; entrepreneurial exposure to educational opportunities; thematic programmes from leisure, culture, sports, and arts to multimedia community projects are some of the tactics devised to enable Hong Kong youth to perform well academically, forge deep relationships and remain optimistic about their future, despite of adversaries.
It is through this partial self-help, partial self-discovery journey that the Federation hopes to instil in the young people, that they are first to be engaged as users/members, then participating as volunteers to offer assistance to others, before progressing as youth leaders.
Ms. Hsu explains, "Our aim is to instil self-confidence in themselves by first joining the community such as activities organised at our various Youth SPOT Centres. By stepping out of their comfort zone, we see a mindset shift from 'I am' to 'We are'."
ABC Wellness Model
On a deeper level, Ms. Hsu shares the "ABC Wellness Model" concept: Awareness of personal health needs; living a Balanced life, and Connection through meaningful relationships, so that young people can build a more "All-Round Wellness" approach in life. This was derived from a 2021 report published by the Federation 1 (「全人健康 連繫內外」報告) advocating the development of all-round wellness. 1099 respondents aged 12 to 34 were interviewed on their understanding of overall health and the impact of the current social environment on health, where 64.1 % of the interviewed youth confessed never having heard of the concept of "holistic health」. The average score for the level of concern on general health is only a mere 5.97 points, which is slightly higher than the national median level of 5 points on a scale of 0 (not concerned at all) to 10 (very concerned).
The Federation further proposes to help young people develop in more balanced ways from six areas in life, including Physical Wellness (身), Emotional Wellness (心), Social Wellness (社), Occupational (職), Digital Wellness (數), and Environmental Wellness (環).
The evolvement of these studies conducted by the Federation is not new. In fact, the Federation holds yearly surveys as part of the "Youthline 2777 8899" initiative2, where the statistics collected give good insights into high school students' emotional state of health. The scope of data collection and analyses include a better understanding of their stress level index; determinants of their stress levels; as well as how well the young people are seeking professional help to help themselves. This resonates with other field studies where it is often found that individual, family and environmental risk and protective factors do affect young people's development and resilience.
Ms. Hsu also extends the nurturing of resilience to the mental well-being of individuals, other than the physical state. Being able to "bounce back" from difficulties or challenges, and then move forward can be equally edifying moments.
The establishment of 「Wellness Plus」 (「全健空間」) is one such initiative where professional courses and activities related to healing, self-awareness, and new experiences are organised. As a digital extension, an online wellness platform called Wellness PLUS is catered to young people. Dedicated hashtags on Instagram such as "#Wellness 111" are introduced to encourage young people in committing to at least one healthy exercise every week, while 「#Healing Tuesday" promotes the need for self-care every Tuesday. Such mental health promotion strategies encourage cultural sensitivity and awareness, together with respect for one another's differences, regardless of age, gender, sexual orientation, culture, socio-economic situation or abilities.
Many of our participants started off as members, and they have feedbacked positively of being able to effectively manage in one situation, making them better able to cope with stresses and challenges in future situations.
Other successful and ongoing significant projects organised by the Federation would be its successful thematic programmes where core values related to resilience such as care and inclusiveness are reinforced. The well-received Neighbourhood First Reunion Lunch is held during every Lunar New Year since 2012, with a hiatus during the COVID-19 pandemic (2020-2022). The event often garners about 100 tables, which is well-attended by a strong turnout of 1200 young people, neighbours and the community of different districts collectively coming together for a good feast of traditional delicacies.
"What we have done in the Federation so far has come a full circle. Many of our participants started off as members, and they have feedbacked positively of being able to effectively manage in one situation, making them better able to cope with stresses and challenges in future situations. Rather than merely bouncing back, dealing with challenges make them grow and become stronger. They also tend to be empathic, and many of these youth become good communicators and effective problem solvers. This explains their eagerness to keep serving in our programmes relentlessly," Ms. Hsu concludes.
---
References:
青協「關心一線2777 8899」公布「中學生情緒及求助狀況」調查結果
---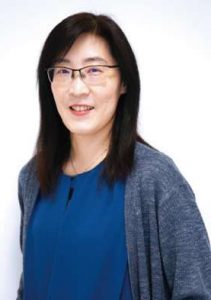 Ms. Hsu Siu-man is currently the Deputy Executive Director of the Federation and has rich experience in youth counselling service. She is now responsible for the strategic corporate planning and communication, partnership and publication, and the Federation's education, counselling and new services development.