//vol.13-4 Interviews

Judy Kong Ka-wai, Chief Executive of the InspiringHK Sports Foundation, talks about boosting social mobility and inclusion through sports in Hong Kong.
Findings of a study they conduced with the University of Hong Kong show how physically inactive Hong Kong youth are, despite the many benefits of sports.
Inspiring stories of young people who have enjoyed sports training and mentorship show that great strides can still be made despite inequalities and both gender and ethnic barriers.
What would you say are the main values of sport for the InspiringHK Sports Foundation (IHKSports)?
We believe in the underlying spirit of sport. Quite apart from the health benefits of exercise, it encourages a positive mindset and teamwork. It also widens young people's view of the world. They learn about their community too and that promotes social mobility and inclusion. One of our sports is running. It's a great way to discover your neighbourhood!
Which other sports are included in your classes?
We run 41 classes across 19 different sports. They include badminton, football, hockey, lacrosse, rope skipping and rugby. We also like to promote new or emerging sports like dodgebee, kabadi and Tchoukball. They need only simple equipment and have few rules so are more inclusive across all age groups.
Who can participate?
We cater for both boys and girls from all backgrounds and nationalities and the fees are low: just HK$500 a year to join 40 one-hour sessions. Girls are underrepresented in sports in Hong Kong and we emphasize gender equality so we have a special focus on them. We are very inclusive, with minority and LGBT groups as well as special educational needs children.
How do you find venues?
It's not easy. We tend to offer training in sports that are easy to organize in multisport venues. Recently, because of success at the Olympics, fencing has become very popular. Demand is relatively easy to satisfy because we just need a suitable space. Although there are plenty of good facilities throughout Hong Kong, over-cautious attitudes about opening up school campuses to the general public mean they are underused. Even in Singapore and mainland China, there is less exclusivity than here.
How might this problem be solved?
Perhaps in future the government could work more directly with big organizations such as the Tung Wah Group of Hospitals and the Po Leung Kuk to arrange more open access to their many school sports facilities. Similarly, international schools can be invited to participate if provided with suitable incentives. What is lacking now is motivation.
Can you tell us about some young people who show how well your efforts on behalf of inclusion have paid off?
Let's choose three examples. Kei-wan, Man- yeung and Sadia. Born in Pakistan, Sadia is a Muslim Hongkonger, a fluent Cantonese- speaker who learned to swim with us when she was 16. Her parents worried about dress code because of her religion but IHKSports supplied a full-body, long-sleeved swimsuit and a female coach to help persuade them. Now Sadia says, "My coach not only taught me to swim, a survival skill, she also taught me other lessons in life so I can overcome other challenges.
Man-yeung suffers from ADHD. He was labelled as a troublesome boy at school with no self-control who frightened teachers and classmates. He began doing Taekwondo at IHKSports after years of inactivity and video game addiction. Nevertheless, with close monitoring by his coaches, he slowly responded to a personal touch and learned how to show respect for others through the martial arts. Now he knows how to direct his negative energy. Although he doesn't stand out in a crowd, he stands up for others who suffer from discrimination and reflects all the efforts made by his coaches and parents.
Then there is Kei-wan, a teenage fencer. The equipment was too expensive for his family but a IHKSports partnership with his school made it possible for him to start learning. Within a year, he was invited to join the school team, but his mother stopped him, worried that his grades would suffer. He persevered anyway, using chopsticks and pens to imitate the training movements but it wasn't until his IHKSports coach gave him free lessons that he really began to shine. Since then, nothing has stopped him and now he hopes to become a coach himself. He says, "No matter the adversity, the joy cancels out the pain."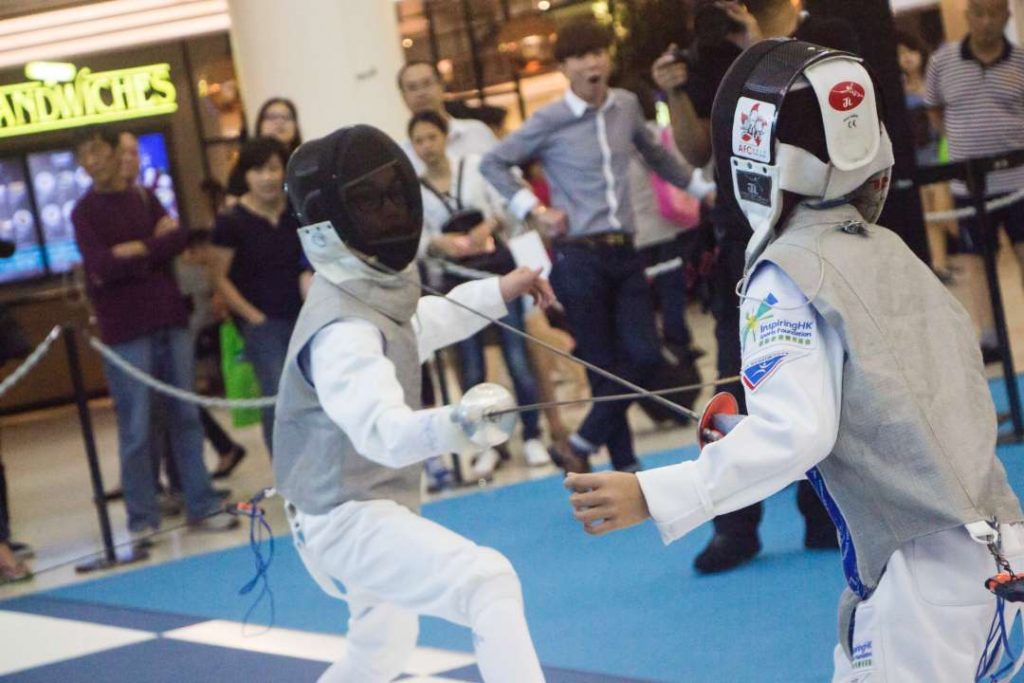 Would you say parents' attitudes to sports participation are changing?
We hope so, perhaps as an after-effect of Hong Kong's success at the Olympics, but also as awareness of the risk of child obesity grows. Parental involvement is the goal of our SportsHour campaign with families and schools. Parents play a very important role in their children's attitudes but many of them do no sport themselves. We can see how motivating parents can be by looking at the Olympic stars who grew up in sporty households and hope to change parents' outlook on sports at school and careers in sports.
Coaches must be very influential as well. Can you empower them too?
This year, we set up the online IHKSports Coaching for Youth Academy. It's a resource platform for educators. Currently, we have 150 freelance coaches but we need more. They act as role models for the children. However, there is no centralized registration system for licensing coaches in Hong Kong and we lack female coaches in particular. We are inclusive as far as language of instruction is concerned and Cantonese is not essential. After all, sport has its own global language!
Participation and the SportsHour campaign
The World Health Organization recommends a minimum of 60 minutes of moderate-to-high intensity physical activities daily for 5–17-year-olds. However, the results of a research project called the 「SportsHour Participation Index", commissioned by IHKSports with the University of Hong Kong, indicate that only 5% of the 8-15-year-olds in Hong Kong meet the 1-hour guideline on weekdays and only 23.7% on weekends. Furthermore, girls are three-times less active than boys. From the age of 15, sports participation in teenagers plummets even further. When asked about the reasons for their inactivity, 60% said they lacked time and had too much homework.
---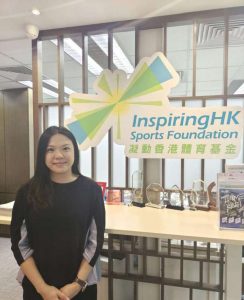 The InspiringHK Sports Foundation charity was founded in 2012 with a vision of developing better youth through sports. It promotes social mobility, gender equality, social inclusion and a healthy lifestyle. CE, Judy Kong Ka-wai, developed her connection with youth work during her first job at HKFYG. "It taught me to put youth first. I also learned that to make things happen depends not only on passion but on a having a professional attitude and good planning skills."
---
"The Level Playing Field" is a collection of young people's stories published by IHKSports that reflects the many ways in which their work has changed young lives.
Read more
www.inspiringhk.org