//vol.13-4 Youth and coaches speak

Team Hong Kong proved their determination to succeed at the Tokyo 2020 Olympics this year.
They, and others who have represented Hong Kong in sport, can inspire and motivate young people.
Will participants in HKFYG's sports and other programmes find the determination to be equally successful one day? Some talk about their dreams.
香港隊在東京奧運取得佳績,展現了他們爭勝的決心。
他們代表香港作賽,啟發並激勵了眾多香港人。
香港青年協會社區體育部青年及運動項目參加者能得到他們啟發,發揮潛能、勇創佳績嗎?他們 跟讀者分享了他們的夢想及計劃。
Many children who are involved in either team or individual sports dream of representing their country or city on a global stage. Of course, these dreams are not always fulfilled, but when they are, the achievements inspire and motivate the young.
Who could forget the Atlanta Olympics in 1996, when Lee Lai-shan won the city's first ever gold medal for windsurfing? At this year's Tokyo Games, fencer Cheung Ka-long brought home a gold again – the first in 25 years. With him, swimmers and cyclists, as well as table tennis players and martial artists won a grand total of seven medals: a landmark achievement for the city. In some ways, even more impressive are the achievements of Hong Kong Paralympians. The city's 24-strong delegation won five medals at Tokyo this year with an amazing 131 medals over the years.
Not only Olympic medallists can inspire. Ho Yuen-kei was born with spinal muscular atrophy but is currently ranked second in the world in Paralympic boccia*. Her advice to all athletes is, 「As long as you have the abilities, use them and do not limit yourself.".
Former national hockey squad member Justin Mak, believes that perseverance and working hard, listening to those with more experience and being open to new skills and are the keys to success. He also says, "Don't be afraid of making mistakes. When you mess up, the best way of getting better is to gain the confidence to take risks." Now studying at Imperial College, London, Justin hopes to represent England in hockey one day.
Both Justin and Yuen-kei, very different in their choice of sport, abilities and achievements, share the determination to succeed. This is what sets them apart and this is what everyone involved in sports can see, whether they are at amateur or professional level or just enjoy sport as a leisure activity. As Lai Chi- wai, once a world-ranked rock-climbing champion who is now a paraplegic said, "I can still dream and still do what I love." For him, it meant climbing Lion Rock, just to show it was possible.
What about future stars? Perhaps someone now taking part in HKFYG Community Team Sports (CTS) or other similar programmes and events might end up representing Hong Kong. They show both determination and commitment, as their feedback below shows. Many have also taken risks and agree that you learn through your mistakes.
Run21: raising funds and hopes
A group of 18–25-year-olds have been raising funds for youth sports development this month, especially for the disadvantaged. They ran 124 km in 21 hours around all the Federation's Youth SPOTs from Kwai Fong to Tsuen Wan, from Tuen Mun to Tin Shui Wai, Fanling, Sha Tin, Lok Fu and Hung Hom before heading over to Hong Kong Island East and eight other Youth SPOTs and finishing at LOHAS.
Two of them say:
Anastasia Running is part of my life but the pandemic had a big effect on me, because of all the rules and restrictions. With Run21, I could train with others again after so long. Although I needed to catch up to the male runners' pacing and speed, being part of the team gave me so much encouragement. That kind of support and team spirit are very important in trying to achieve a goal!
Fok I I have learned so much about running from our coach. He has taught me things I wouldn't necessarily have thought about before, like posture and the mindset required for long-distance running. Run21 really made me push myself to the limit, but it was well worth the effort. I enjoyed the experience, the teamwork and the opportunity to visit parts of Hong Kong I'd never been to before. Tin Shui Wai, for example, it was so open and green. A wonderful place to run. And it felt so good to reach our goal.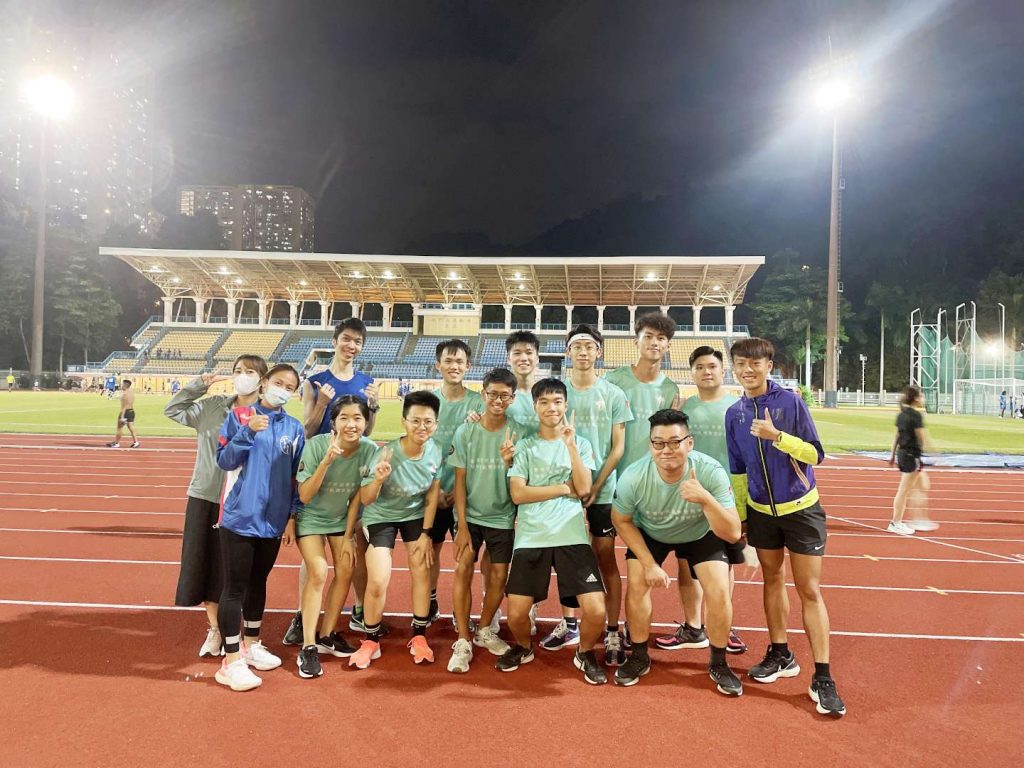 HKFYG Community Team Sports
Ice hockey: 8-year-old Matthias
I started playing ice hockey because I wanted to join a team and learn something new. It took a lot of hard work before I could ice-skate properly, but it is so much fun and now I really enjoy playing. I have learnt to believe in myself more and am determined to play better. One day, I want to do an advance ice hockey training course.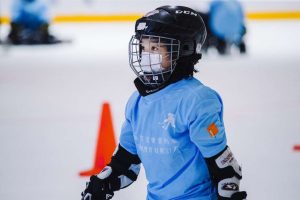 Lacrosse: 10-year-old Cailey
I used to be someone who stayed in indoors, reading and drawing but I fell in love with lacrosse when I did two summer courses with HKFYG's CTS. The first thing I enjoyed was making new friends and belonging to a team with them. Then, I really enjoy competing against the other teams. Of course, it is nice to win, but playing lacrosse together is what I really like. It has made me interested in other sports and I have started playing netball and basketball as well. I still like to do things indoors, but finding a balance has been good for me, I think.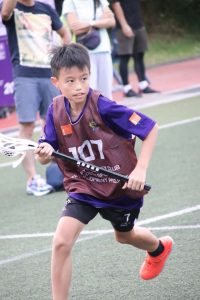 Rope skipping: 13-year-old Mindy
We never had much spare money in my family but there was enough for a skipping rope. My brother used it before me, but it never wore out. Luckily, we can get out onto the roof of our walk-up building, so whatever the weather, I go up there every day and skipped. When I get tired of studying, it takes my mind off the exams and I always feel better afterwards.
Sometimes I skip in the park, and that's how I found other kids my age who also love skipping. It's not exactly a team sport, but sometimes we get a long rope and two of us take turns to swing it while one of us skips. We can stay socially distanced. Nobody ever stops us. We never need facilities or expensive equipment and even during Covid, we could keep going. The senior citizens on the park benches watch us and clap. It's lovely and makes you feel part of your home neighbourhood.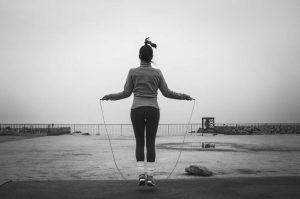 Dodgeball: 14-year-old Chi-rui
I joined CTS programmes every year for the past four years and each year I like to try something new. It's just for fun in the summer and this year I did a free dodgeball course. I loved having the chance to play and to enter competitions. Trying different sports is important for me. I think that with sports like dodgeball that are not so well known, it is important to have free trials as promotion.
Football: 18-year-old Curry
You share the happiness or the sadness with your teammates. You are not alone.
I've loved playing football since I was little kid. When I started playing with HKFYG, I was in Secondary 4. My social worker encouraged me to join the team through Project Wind* which helped us with coaching and buying training materials. Our coach taught us strategies and tactics and how to really observe the match as a whole, identifying the best teammate to pass the ball to.
Once, our team took on professional footballers and that was really unforgettable. We were so scared and thought we would lose by seven or eight goals, but in the end we only lost by two or three. During half time, our coach told us not to be afraid because we could still play well. He was right. We stopped worrying and in the second half, we really did play quite well. It was a friendly match and I learned that by just playing at our own pace we could find a way. It was a lesson helps for daily life as well. Don't be scared or hasty, try to think and stay steady.
The most valuable thing for me was meeting good friends in the team. We learned together and grew together, I treasure the friendships so much. Now I am studying accounting at Poly U and so I play in university team, but I will keep trying to play with the Federation team as well. No matter whether you win or lose, you share the happiness or the sadness with your teammates. You are not alone.
Thai boxing: 20-year-old Man-hong
We all learned how to control our strength, know the rules and recognize the limits.
I started Thai boxing in 2019 with Project Wind.* Before that, I was a fat boy who just played football with my friends. When I was in my last few years of secondary school, my principal was very keen to arrange different activities for students. There were many options and the school joined hands with NGOs like HKFYG.
I met a social worker who introduced me to Thai boxing. Until then, I believed all boxing involved trying to hit people on the head. So when I first did Thai boxing, it was a real surprise. Instead of being violent, we all learned how to control our strength, know the rules and recognize the limits.
In my first match, I was so nervous and joked, "please don't hit me too hard!" In fact, when the other student hit me on the nose and I started to bleed, I wasn't scared but try to hit back, within the rules of course. That was a really unforgettable moment.
I'm a third-year student now in Aging Studies. I do show competitions sometimes where the aim is not really to win but to help others understand the sport. In future, I want to try to enter a real competition.
I have learned so many lessons from Thai boxing that I can use in daily life. Endurance, for example. You get tired in and sometimes you feel pain, but you just keep going. When I face difficulties in daily life, I can now do the same, just persevere.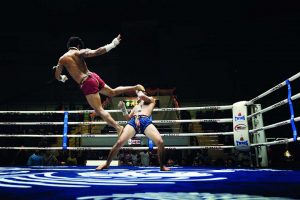 Professional lacrosse coach, Kei, 27, works with the Hong Kong Lacrosse Association
An opportunity to explore the community, see how young people interact with each other and understand better the kind of coaching they need.
"I hope to promote sports culture in the community, especially for children who are at the right age for developing both physically and mentally as a result of sports participation," says Kei. When he trains youngsters, he tells them, "Taking part is more important than anything else. Winning is just a by-product." Kei also says he has learned a lot about himself as a result of being a coach. "I have become more patient. I love encouraging children and being friends with them."
Kei's coaching skills brought him to CTS. "It gave me an opportunity to explore the community, see how young people interact with each other nowadays and understand better the kind of coaching they need. Working with CTS has also shown me that I need more training myself, in how to deal with challenging situations in class, how to manage time and class discipline. It will mean I can design a course for the kids according to best practice."
Dodgeball coach, Bak-lam, works for the Dodgeball Association Hong Kong, China
To learn something about the values of sports. That's more important than victory.
"My main goal is to make dodgeball popular and let more people see what fun it can be. Of course, in sports competitions, everyone wants to win but I think it is more important to take part, to be able to learn something about the values of sports. That's more important than victory."
Bak-lam has seen how participating has changed the exercise habits of some of the young people she has coached. "I believe that maybe in the future this small group of people might become a large group of people, and then spread what they have learned in the community. Several of them were physically inactive before. Take me, for example. I discovered dodgeball at primary school. Since then, I have learned perseverance and the ability to face setbacks and I want to pass on what I know about dodgeball to the public in general."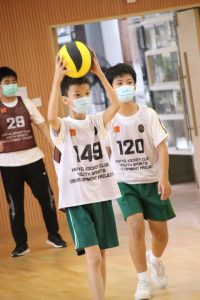 Ryan Lam, ice hockey coach works for the Hong Kong Ice Hockey Association
CTS opens up opportunities
"Safety and enjoyment are the most important parts of my coaching," says Ryan. "I want many people to learn how to play ice hockey and CTS opens up opportunities for those who are interested but don't have enough money. I tell the players that winning always comes second to taking part. It's a very expensive sport, so not everyone can try."
Ryan has been playing ice hockey for about 20 years and has been a coach for nearly as long. "Why did I choose this sport? Because it is fun and exciting and I want to share what I know about it with lots of others."
---
Sports mileage sponsorship scheme
This project sponsors grassroots youths to receive sports training. Anyone can join the scheme and keep a record of the hours they spend doing a sport of their choice. Maybe you play badminton or tennis. Perhaps you swim lengths at your local pool. Every hour you record count for your "Sports Mileage" record and helps someone less privileged than you get free training.
Every 400 hours recorded means 8 students get a free class
For example spikeball, sailing, dodgebee, wing-surfing, football, running, basketball, ice hockey, lacrosse and dodgeball
Sponsor free training courses for grassroots youths
Enquiries 3611 6670 or 3108 4668
Your mileage counts! Help others with your Sports Mileage
Go to cts.hkfyg.hk/sportsmileage/and record your mileage